Exponential Education
Leading Through Innovation
Exponential Education was established in the year 2014 for enhancing employability through Multidisciplinary Professional Training. The institution has been the first of its kind to focus on employability with a combination of academics and skill enhancement of each student. EXPONENTIAL EDUCATION was established with an aim to bridge the gap between the skill sets acquired by a student in institutions and skill sets required by industry. In order to achieve this, EXPONENTIAL EDUCATION has tied up with various educational partners to provide skill based- placement focussed training to students of any qualifications. EXPONENTIAL EDUCATION has been working with more than 100 industry partners which are included under fortune five hundred companies to provide the best employment opportunities to each trainee.
The strength of EXPONENTIAL EDUCATION lies in sourcing financially deprived students from remote/ villages/ semi-urban areas where there is no opportunity for students to enhance their skills. Exponential Education Limited has strong execution capabilities regarding the same.
The trainings offered are mainly vocational courses or degrees which either enable students to take up jobs by increasing their employability or help them to be selfsufficient and independent. EXPONENTIAL EDUCATION over a period of last 3 years has trained and placed more than 10,000 students in various fields like Manufacturing, Automation and Electrical . EXPONENTIAL EDUCATION also offers Skill Development Training programs to students.
The unique concept of "Certified Training Program" provides practical work experience to enhance employability and build confidence among students. It gives equal opportunity to earn handsome amount of stipend to maintain his/her lifestyle. EXPONENTIAL EDUCATION has 'STATE OF THE ART' infrastructure and a learning conducive ambience at all centers. 100% placement assistance is provided to students after completion of training programs.
Along with this, it is an honour for EXPONENTIAL EDUCATION to be affiliated with central government in one of its biggest and most important project called DDUGKY (Deen Dayal Upadhyay Gramin Kaushalya Vikas Yojana) which is implemented through the State Government. Exponential Education was chosen as one of its PIA (Project Implementing Agencies) partners by MoRD (Ministry of Rural Development) EXPONENTIAL EDUCATION is successfully working in area of Skill Development and Employment generation since last 03 years.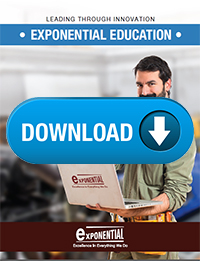 Download Exponential Education Profile for further details about offered Certified Training Programs, Skill Development programs